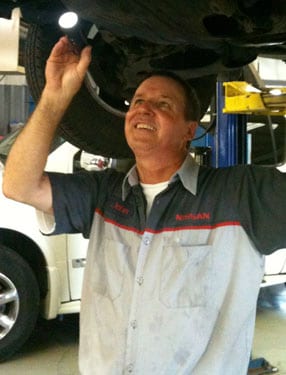 What is a pre-paid maintenance plan and what does it cover?
Typically, a pre-paid maintenance plan is just a simple warranty on your car that takes care of the costs of small fixes to your Nissan. Pre-paid maintenance generally takes care of
services
like oil changes, and tire rotations. Prepaid maintenance plans may not cover all of the maintenance that your car requires. For a list of all maintenance that your car requires,
contact us
at Superior Nissan.  
One of the big advantages of having a pre-paid maintenance plan is that when you visit the dealership for repairs, you don't have to stay waiting in line. Most prepaid maintenance plans allow for express drop off and pick up. So, you will have less waiting time for your maintenance needs. When you visit Superior Nissan of Fayetteville, you can get your repairs done, and be on your way. 
An additional convenience of the pre-paid maintenance plan is that you don't have to worry about paying for your oil changes and tire rotations. When you visit our service center, you can rest assured that it's already paid; there's no surprises. Also, pre-paid maintenance plans are very cost effective. The average costs of driving a car for 30,000 miles with the only maintenance costs being tire rotations and oil changes is about $400. If you get a pre-paid maintenance plan for about this much, not only are you getting additional convenience, but you're getting saving money over time. 
Some pre-paid maintenance plans may be available that cover longer than 30,000 miles, so you can be covered for mechanical visits and updates in your cars system. Another versatile function of pre-paid maintenance plans is that they are generally very negotiable. This versatility in addition with the warranty you probably already have will make maintaining your car a breeze. Whether you get in an accident or you just need an oil change, you're always safe. However, you should keep in mind that pre-paid maintenance is not a warranty and covers different types of maintenance than a warranty.
Pre-paid Repairs
In addition to the pre-paid maintenance plan, there are pre-paid repair plans. These plans have all the same versatility and benefits of the pre-paid maintenance plan, but cover repairs as opposed to maintenance. If you are interested in prepaid maintenance plans, you may want to look into a pre-paid repair plan as well.
What's covered in your pre-paid repair plan? Generally, repairs on the entire vehicle are covered, but sometimes power train parts of your car will only be covered.

If your have any questions or would like to know more about our pre-paid maintenance plans and pre-paid repair plans, contact us at Superior Nissan of Fayetteville for more details.